Since 1981, SIGA has been developing software for producers and stakeholders in all areas of agriculture.
The company's product range includes products for farm accounting, herd management and crop monitoring.
The company's mission is to provide simple, effective management tools that enable rapid, informed decision-making.
The company stands out for its desire to innovate, its ability to listen, its responsiveness to farmers' growing needs and its unrivalled customer service.
Headquartered in Drummondville, the company is well established among Quebec's agricultural businesses.
Using SIGA software means surrounding yourself with a dynamic, forward-looking team, guided by a strong value: guaranteeing customer satisfaction with solutions that are adapted, accessible and reliable.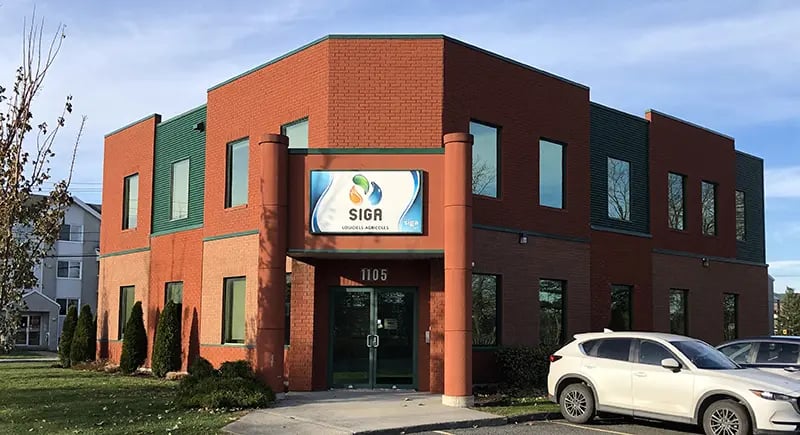 200
accountants & advisors
1981
Formation of the SIGA company by a group of 5 individuals: 4 professors from Laval University and 1 agricultural manager.
1987
Construction of the inaugural office in Drummondville.
Partnership agreement between SIGA and WIC (Wickham Company) renowned at the time for the sale and distribution of small agricultural machinery.
1993
Assets purchased by three of the founding members (Richard Messier, Marc Tétreault, and Yvan Fortier). Establishment of the company SIGA Informatique 2000 Inc.
1997
Construction of the current building located at 1105 Hains Street, Drummondville.
Building a second floor on the premises to facilitate the company's continued growth and enable the hiring of additional sales and developer personnel.
2010
The company joins the Isagri Group to enhance its development capabilities and gain the support of a network and agricultural management tools.
2019
After 7 years of revamping the classic Siga Finance software, SIGA officially launches the new Siga Finance evo software for agricultural accounting management.